Behavioural Economics, Experimental and Quasi-experimental Methods
This video explains the different types of methods used in behavioural economics, experimental and quasi-experimental (or natural experimental) designs. All these designs use control groups, either in a Randomised Controlled Trial (RCT) or using matching techniques such as propensity score matching using population level data.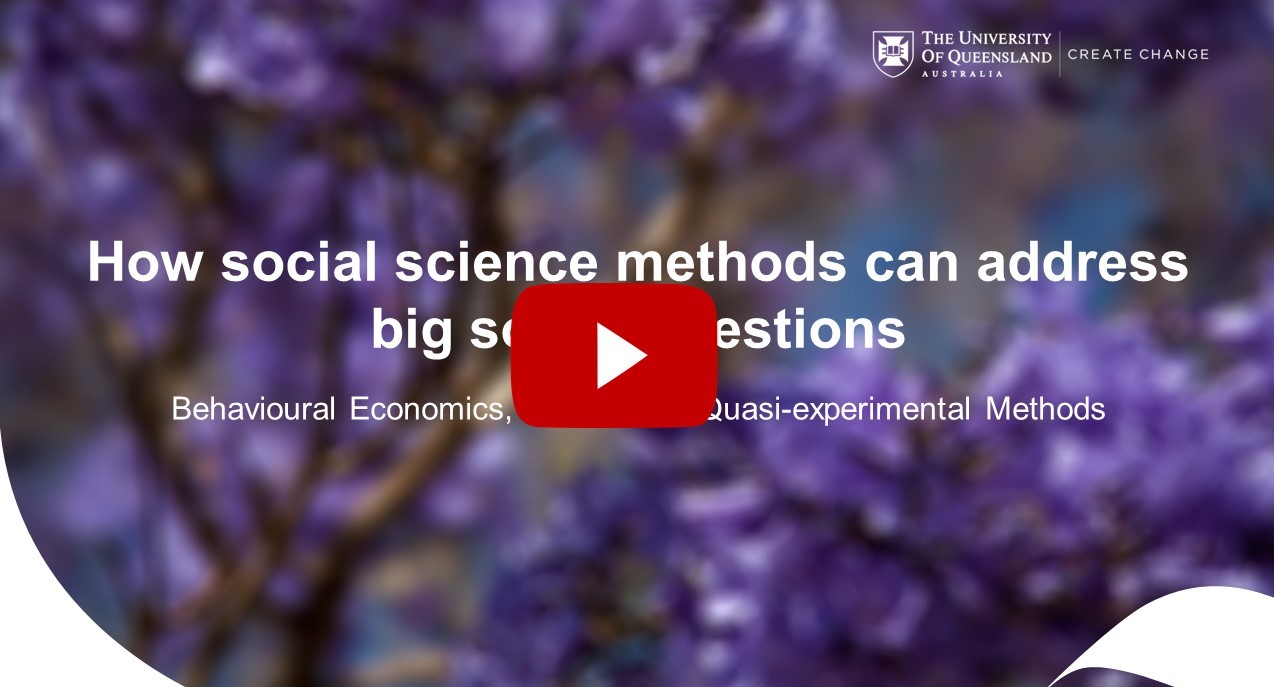 View examples of our featured projects exemplifying ISSR's strengths:
Age in Cohort, School Indiscipline and Crime: Regression-Discontinuity Estimates for Queensland
Research Partners: Queensland Department of Education & Queensland Police Service
Lead: Dr Tony Beatton
Term: 2018
Learn how to handle and analyse longitudinal quantitative data
The two-day MFSAS Introduction to Longitudinal Data Analysis and Panel Regression Models Course provides participants with a thorough understanding of the structure, properties and uses of quantitative longitudinal survey datasets, as well the skills to confidently manage and analyse these. It combines comprehensive explanations with hands-on practical sessions using Stata software and data from the Household, Income and Labour Dynamics in Australia (HILDA) Survey. 
Deepen your specialist knowledge of longitudinal approaches
This five-day intensive MFSAS Longitudinal Data Analysis Course has been specifically designed to deepen the specialist knowledge of your research teams and enhance the quality and meaning of the data you use when making crucial business decisions.
Develop essential quantitative analysis and interpretation skills 
The MFSAS Essential Social Analysis Skills Course (3 days) is designed to provide participants with the essential skills to analyse and interpret quantitative (numeric) social data. Participants will develop an understanding of the appropriate statistical techniques to use for different types of research questions and different types of data and importantly how to make inferences and interpret results.